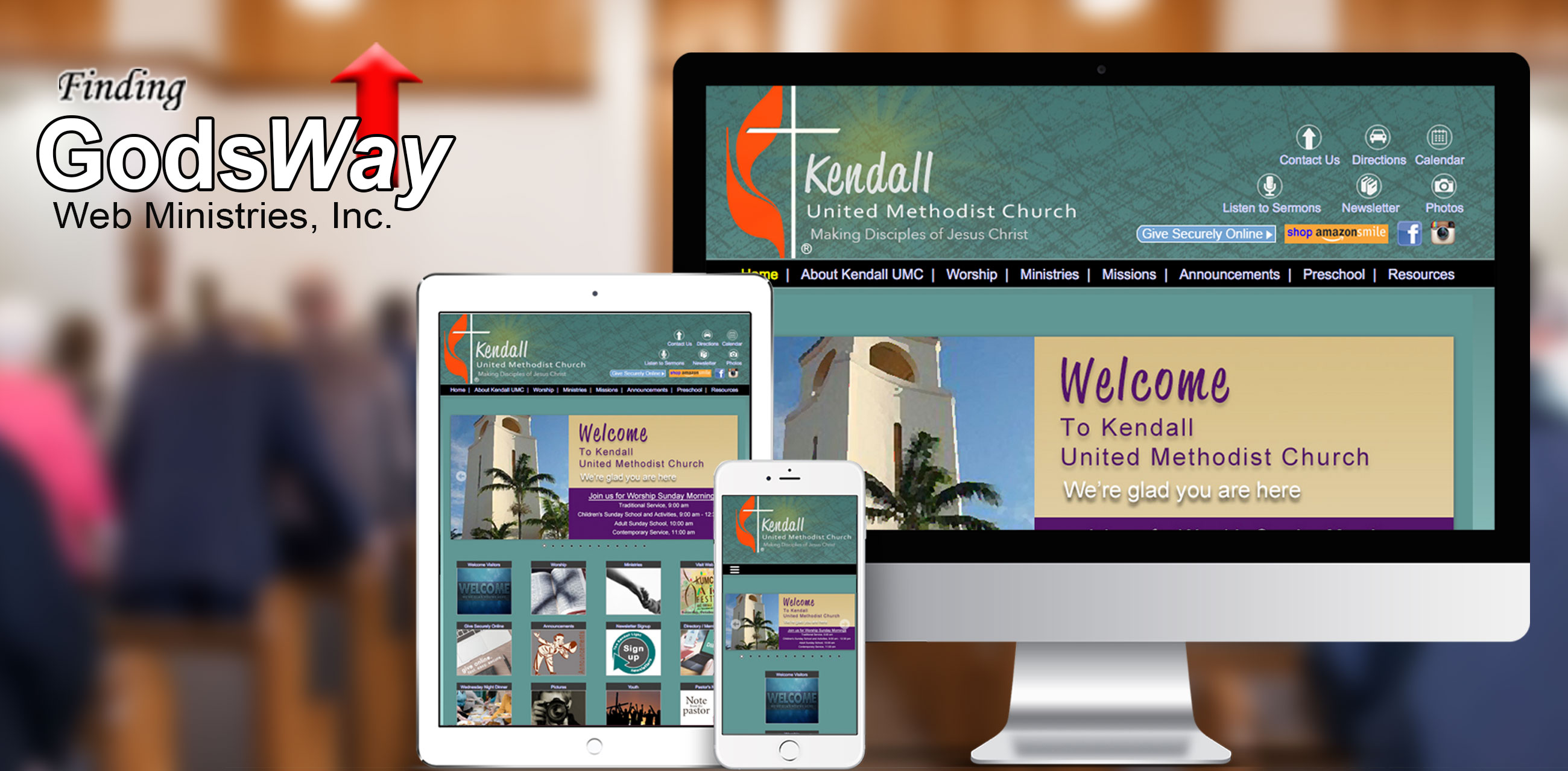 FAQ - Frequently Asked Questions
print this page
Here you will find some Frequently Asked Questions (FAQ) that have been asked of us and our answers.
If you have a question that is not answered here, please call us at 816.560.2837 or Contact Us via our online form.
---
Web Design and Development Questions
How is Finding GodsWay different from any other web design service, why should I use you?
Everyone associated with Finding GodsWay is a Christian, and we have dedicated our service exclusively to helping churches and ministries.
With Finding GodsWay you can have an affordable, professional website, but we take it a step further. If you wish, we will help manage your website's content for you. That means you can have a great website, full of features and not have to do anything to your site other than regularly send us your church literature (Worship Bulletins, Newsletters, Etc.).
We know that maintaining your website isn't the top priority of your day. But it's extremely important to keep your website material fresh and up-to-date, and we can work with you in doing just that. We would be privileged if you let us help keep your website content such as news, events, and other important information about your church and ministry up-to-date.
Simply send us your worship bulletins, newsletters and any other pertinent literature you wish, on a regular basis (every week/month/etc.), and we will pull information from those documents and place them on your website for you. As the events expire we'll remove that information to keep your website fresh and organized. This service is complimentary and is designed to help you, your great church and ministry. Now if you want to manage some of your website content and features, that's not a problem. We have a sophisticated system that gives you such control.
Will a website from Finding GodsWay work on my phone or tablet?
Yes, designing and developing websites that work well on mobile devices is an important aspect of the work we do on today's Web.
All websites from Finding GodsWay are responsive and comply with current standards. Responsive designed sites offer "multi-device support," which encompasses the wide range of devices and screen sizes we are designing and developing for these days.
One of the advantages of responsive design is that a responsive website reflows to fit a screen of any size, with an experience and a layout suited to each, the approach is very future-friendly. This gives you a website that continues to work well into the future, even as new devices and screen sizes come to market.
Who will update the content of my website?
As stated above, we can do that for you or you can manage the content yourself. Simply send us your text and or pictures and we'll take care of the rest. Being Christians ourselves you are our brothers and sisters in Christ; we serve the same Lord with the same goals. We help you provide information about your great church and ministry and ultimately help you in spreading the good news of Jesus Christ.
What if I want to type my own text and manage areas of my own website?
Finding GodsWay websites are sophisticated and allow you to control features, web pages or a section within a web page. You can manage your own Calendar, Library, Photo Gallery, Media Center, Announcements areas, Pastor's Message page, Online Prayer Chain, Worship Schedule and more.
If you see another area of your website that you would like to control - let us know and we'll add that function for you. All of our features are very easy to use. We're here to walk you through and help wherever and whenever needed, always remember you are never alone or on-your-own with Finding GodsWay.
What if I don't want to manage my own content, will Finding GodsWay do that for me?
YES. Finding GodsWay can help you with your ministry website even further by offering to keep your website content current and up to date. Simply send us your worship bulletins, newsletters and any other pertinent literature you wish, on a regular basis, and we will pull information from those documents and place them onto your website for you. As the events expire we'll pull the information off of your web page to keep your website up-to-date and organized. There is no extra charge for this service, consider it our gift to your great ministry.
Will people find my website through Google?
Yes, it's part of the great service we provide you; basic Search Engine Optimization (SEO). We list your website with the major search engines, provide all the technical aspects that they need to work with and keep you compliant with their standards and policies.
Can I change my website design?
We understand the need to keep your online presence fresh and exciting, that is why we allow our clients to change to another pre-designed website style, at no additional charge, once every two years; beginning on or after your two year anniversary.
Do you provide email service?
Yes we do, Finding GodsWay gives you emails that coincide with your website address (ie: pastor@mychurch.org). This not only looks professional, it shows that you have it together. You can use these emails for Clergy and laity, church secretaries, financial officers, counsel members and more.
---
Billing and Pricing Questions
Why are your prices so affordable, what's the catch?
There is no catch. We've worked hard over the years to provide you the very best in services while keeping the costs to you as low as possible. We want you to keep as much of your money as possible for the work of your Church and mininstry.
Why do you charge for domain names?
Most domain names are not purchased they are leased. Finding GodsWay does secure domain names on behalf of our client. We have to pay fees to the domain registrar for your domain, and we mark it up slightly to help cover a portion of our time. The reason we offer this service is because we want to help you. We manage your domain for you so that you don't have to be bothered with the technical issues.
Do we have to sign a contract for service, if so for how long?
We do not play games with the church and we do not force you into lengthy, awkward contracts - all web services are considered month to month. You are under no obligation to purchase or continue services and may cancel any time.
How can I pay my bill, what payments do you accept?
We want to make things as easy as possible for you. Most of our clients are invoiced via emial or regular mail and pay by check. We also accept most major credit cards.
How much money do I need tp pay up front to get started?
There are no setup fees, only your first months web services fee (depending on the Web Package you choose) plus the annual domain name fee if we are going to be your domain registrar.
Are there any hidden fees I need to know about?
No. We provide you with a professional website and great managed service at one low monthly price.
---
Questions Regarding Finding GodsWay
Why is Finding GodsWay called a Ministry?
We've dedicated our full-time work exclusively serving church and ministries, the services we provide are that of a Christian ministry. In providing websites and web services solely for churches and ministries we help them proclaim the Great Commission, spreading the good news, and gospel of Jesus Christ throughout the world via the world-wide-web.
How long will Finding GodsWay stay in business?
Perhaps the real question is, is Finding GodsWay managed properly so that it is positioned to stay in business for many more years to come? The answer to that is a definite yes. The principals of Finding GodsWay have been self-employed business professionals for over 35 years who hold a wide array of business skills. As for how long we'll stay in business... truthfully God is the only one who knows that answer. We are committed to our work for churches and for the Kingdom of God. As long as we are led to do God's work, we will do it gladly and with praise!
Do the people of Finding GodsWay believe in Jesus Christ?
Yes, everyone at Finding GodsWay is a born-again Christian who passionately loves the Lord. One of our criteria for hiring or working with an affiliate is that we all be like-minded believers, equally yoked. Besides being followers of our Lord Jesus Christ we are devoted Christians. When asked we always tell people that we have a passion for the church, and a heart for God.